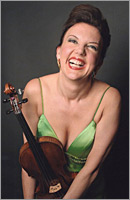 This is not technically a publishing item, but it is about the creative use of digital downloads. 
Tasmin Little is a gifted violinist.  She started her career, a child prodigy at 7.  As an adult she champion's not just her instrument, but "classical music" as a whole. 
This year she has a new project -- The Naked Violin. 
The Naked Violin is a series of recordings that feature the violin -- all by itself.  No orchestra, string quartet or other accompaniment.  Just the naked violin.
She is taking the project on the road next summer.  The tour and indeed, the entire project, was created with the express goal of making classical music available and accessible.  The concert tour has scheduled several unlikely venues -- a women's prison, an Oil Rig and some shopping malls.  She says that this project is about "removing barriers."
As part of the project, she is offering eight recordings along with spoken information as a FREE download on her site.  The entire CD which normally would sell for around $20 is there for anyone to download.  She wants you to download the CD and to take Tasmin's Three Step Challenge:
Step 1
Listen to my spoken introduction and download my CD.
Step 2
Take some time to listen and get to know these pieces. Then write to me and tell me what you like (or don't like) about each piece.
Step 3
Go to a concert, buy a CD or write and tell me what barriers still remain to prevent you from wanting to do either! 
Email:tasmin at tasminlittle.info (You'll have to type this address as she wants to avoid SPAM as much as possible)
I took the challenge. 
Her spoken introductions are clear, interesting and very informative.  They really make the music come to life.  This is way better than any music appreciation class I was forced to take!
The recordings are awesome.  I have listened to all of the cuts a couple of time and most of the Bach ones five or six times.
I'm still thinking about Step 3.