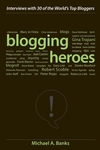 Interested in Blogging? Well, here's the deal: if you have the time and energy you might actually snag all of Blogging Heros, a collection of interviews with 30 top bloggers, "for free."
It's up to you: preorder it from the Publisher, wait and buy it on December 10 or download chapters and start reading now.
Here's is the story:
Michael Banks spent months interviewing Bloggers and asking them for advice on how to start and maintain a blog, what tools to use, how to research, how to attract and measure audiences, and how to make money from blogging. He even asked them to share the single most-important element to their success.
Last week John Wiley and Sons, his publisher, started an active marketing campaign. One of their ploys is to encourage each of the Bloggers interviewed to post their interview on their own blog so that anyone who is interested can download it for free. Very smart idea!
The Wiley site gives you a partial list of bloggers intereviewed and sites:
Thomas Dolby (thomasdolby.com)
David Rothman (Teleread.org)
Chris Anderson, Editor-in-Chief of Wired
Mark Frauenfelder (BoingBoing.com)
Michael Arrington (techcrunch.com)
Robert Scoble (scobleizer.com)
Peter Rojas (engadget.com)
Ina Steiner (AuctionBytes.com)
Gina Trapani (Lifehacker.com)
Alex Pareene (wonkette.com)
As an interested reader I checked them out. . . I'll save you a little work here – as of this morning only four of the ten have put up a chapter.
These are great interviews and they certainly whetted my appetite for more. This is a book I will end up buying. The good news is that the PDFs loaded on my UMPC so I am good to go.
My only disappointment is that the publisher, John Wiley, has not announced an eBook edition (yet).